Margaret McCain accepts gift from children at the opening of the Holland College Early Learning Centre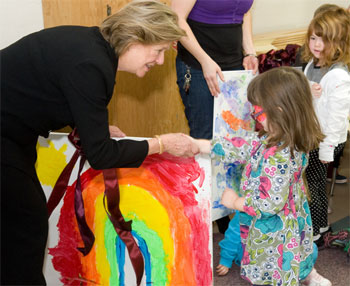 CHARLOTTETOWN: Friday, Dec. 2/ The Honourable Margaret Norrie McCain joined Premier Robert Ghiz here today for the opening of a newly expanded Smart Start program at West Kent School and a new early learning centre at Holland College.

Smart Start includes a range of enhanced services for children and families transitioning from the province's Best Start Program. Mrs. McCain announced a four-year, $600,000 pilot that will provide preschool programming for children transitioning from Best Start along with continued resources for parents. The initiative builds on a recent government announcement that extends Best Start, a program for vulnerable families, to include children from the prenatal period to age three.

"Our initial involvement in Smart Start helped to model PEI's innovative early learning strategy – a bold move that catapulted the island onto the podium as a Canadian leader in supporting young children and families. In the second phase we are partnering again with government and community leaders to demonstrate how  quality early childhood education can be made available to all children," Mrs McCain said.


Margaret McCain addresses audience at Holland College with Premier Robert Ghiz, Jodi McLellan, parent, and Holland College president Dr. Brian McMillan.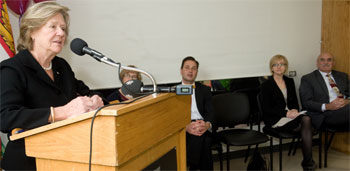 At Holland College Early Learning Centre a ribbon cutting ceremony and tour marked the opening of the new facility that will help train the early childhood educators needed for the province's expanding early years system.  

"Educators and their knowledge of early human development determine how effective the preschool programs are and how much children and families benefit.  Investing in the education of the educators is an essential precursor to investing in the early education of children," Mrs. McCain told government officials and Holland College faculty.