Débuts prometteurs pour enfants ruraux grâce à Start SMART
BURTTS CORNER, NB - An innovative new children's centre officially opened its doors here today at a local school packed with kids, parents, government and community officials. Special guests Premier David Alward and Education and Early Childhood Development Minister Jody Carr toured the facility and chatted with children, parents and staff.
 
Called "Start SMART," the program is a unique partnership between Keswick Valley Memorial School, Family Resource Centres, District 14 of the Department of Education and Early Childhood Development and Neighbours Alliance of North York, the community organization that oversees the project. The project is supported by the Government of New Brunswick and the Margaret and Wallace McCain Family Foundation (MWMFF).
At the Keswick Valley Start SMART opening May 19. Left to right: MP Mike Allen; Premier David Alward; Minister of Education and Early Childhood Development, Jody Carr and Carol Loughrey, Margaret and Wallace McCain Family Foundation.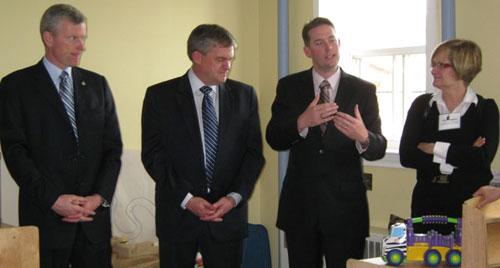 Operating out of Keswick Valley Memorial School, the program reaches out to local families offering nine licensed child care spots and 20 spaces in its after-school program. In addition there are school-based child and parent activities, resources and information.
 
Community activist Shana Brewer attended the opening. "As the mother of four children under the age of seven, I'm very pleased to have this centre in our community and I'm very honoured to be part of this project."
 
Wayne Annis, the principal of Keswick Valley Memorial School points to the valuable educational and recreational opportunities the program provides preschool children. "It is exciting to see children better prepared for their school experience and coming to school with less trepidation," he says.
 
The Start SMART partnership is the fourteenth program in Atlantic Canada to receive support from the Margaret and Wallace McCain Family Foundation. A grant of $50,000 is helping to support start up and program development costs for Keswick Valley Start SMART.
 
The Foundation works with provincial governments and local communities to combine the resources of public health, family support, child care and kindergarten into effective early childhood and family programs. Aligned with schools and operated within a provincial framework, these full service centres are best practice models in early childhood programming, policy and system design.
 
"If children are going to receive the smart start they need to succeed in school and in life, we--governments, communities and foundations--need to act smarter to support them," says Carol Loughrey, board member for the Margaret and Wallace McCain Family Foundation. "Each of the centres our Foundation supports in Atlantic Canada is unique because each community is unique. Families want to be actively involved in shaping the programming their children receive but across the region they all want and need the same thing: an accessible location where they can find parenting advice, child care, preschool and support if their child has special needs."
Guests at the launch of Keswick Valley Start SMART: Front row: Monique Allain,  (Health Education Research Group); Rebecca Derrah, Director Step Ahead Bath Family Learning Centre) Anne McGuire, CEO, IWK (Halifax). Back row: Anne Cogdon (Director of Primary Care - IWK); Ruth Morrison (HERG) ; Anna Hayes, Director Valley Family Resource Centre.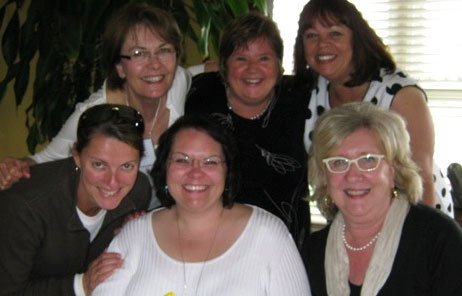 "I am pleased that the MWMFF has made our center possible by having faith in our organization and small community," said Chris Bubar, chair of the Keswick Valley Start SMART initiative. "We have seen the positive benefits of having our children and parents involved in our school and early learning programs."  
The early childhood demonstration sites the Foundation supports undergo regular evaluation by the Health and Education Research Group at the University of New Brunswick and researchers from the University of Moncton. Later in the day, participants visited another early childhood demonstration site in nearby Bath, where families and guests received an overview of progress to date. The Bath site is one of four in New Brunswick jointly supported by the Province and the Foundation.

Other special guests to the opening and overview are Member of Parliament, Mike Allen; MLA, Kirk MacDonald; former Nova Scotia Premier, Dr. John Hamm; and President and CEO of the IWK Health Centre (Halifax), Anne McGuire.
What is Being Said

Interim Research Report - New Brunswick Early Childhood Centres, May 2011

For further information:

Kelly McLean Haley
email: eykmh@nb.sympatico.ca
cell: 506.323.2922

Jane Bertrand, Program Director, Margaret and Wallace McCain Family Foundation
email: janebertrand@rogers.com
cell: 416.356.1949.