On January 31 and February 1, 2013 members of the Margaret and Wallace McCain Family Foundation Inc. attended meetings of the ECD Funders Working Group in Montreal, Quebec. The main topics of the meetings were children's rights and the Early Development Instrument (EDI).
The Funders Working Group
The Margaret and Wallace McCain Family Foundation Inc. is a member of the Early Child Development Funders Working Group (ECD-FWG). The ECD-FWG is many things: a cross-Canada learning network; a deeply shared commitment to children; a link among eight very diverse foundations.  Its goal is simple—the availability of quality, publicly-funded, early childhood education for every child from the age of two.
The ECD-FWG does not solicit or accept applications for funding. Rather, it is a resource to its membership, supporting collaboration and knowledge sharing that improves the effectiveness of our philanthropy relating to young children. The ECD-FWG's major project to date has been a shared investment in the creation and promotion of Early Years Study 3, with much more to come.
Members of the Early Child Development Funders Working Group include:
Margaret and Wallace McCain Family Foundation Inc.;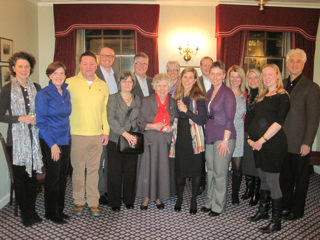 Back row: Jean-Marc Chouinard (Lucie and André Chagnon Foundation), François Lagarde (Lucie and André Chagnon Foundation), Marni Brownell (Manitoba Centre for Health Policy), Christopher Smith (Muttart Foundation), Kerry McCuaig (MWMFF and Atkinson Centre, OISE), Christine Avery Nuñez (Atkinson Charitable Foundation), Claude Chagnon (Lucie and André Chagnon Foundation)

Front row: Angie Killoran (The Lawson Foundation), Lyn Baptist (J.W. McConnell Family Foundation & MWMFF), David Philpott (Jimmy Pratt Foundation), Jane Bertrand (MWMFF), Hon. Landon Pearson, Colette Murphy (Atkinson Charitable Foundation), Laura Manning (Hallman Foundation), Allison Black (ECD-FWG and MWMFF)